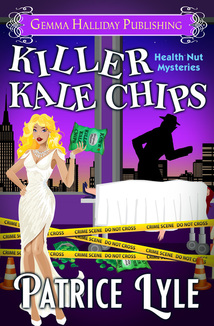 KILLER KALE CHIPS New Release Click here to Order: Health Nut (Book #3) Killer Kale Chips
In the city that never sleeps, Dr. Piper's search for the perfect wedding dress turns into the search for the perfect murderer. When famous diva Veronica Forks drops dead after eating a bag of Ken's Killer Kale Chips, suspicion falls on former-mafioso-turned-surfer-dude, Ken. According to Piper's PI flashcards, Ken has the motive (she witnessed a tiff between him and Veronica), the means (the kale chips), and the opportunity (he was at the expo). But Piper's sure the surfer-dude can't be a killer and, as any good PI knows, the flashcards aren't always right. Plus Brownie, Piper's pet pot-bellied pig, is addicted to Ken's Killer Kale Chips, and if Ken's arrested, Brownie will never snack again! So Piper takes it upon herself to root out the murderer who's adding "killer seasoning" to kale chips before he strikes again.
​​
---
~ ORDER TODAY ~ Killer Carat Cream (Health Nut Mysteries book #2)

Diamonds are a girl's best exfoliator. When naturopath and self-proclaimed chocoholic, Dr. Piper Meadows, hosts a spa night for the launch of the super-exfoliating diamond-dust Carat Cream, she never expects her guests to actually be "drop dead" gorgeous.

But that's just what happens when celebrity dermatologist Dr. Jasmine dies after using a jar laced with poison. Suddenly Piper's products are under scrutiny...as is her eccentric, fun-loving Aunt Alfa, who has a history with police and poisonings. Add in an ornery psychic from the "other side," a pampered potbellied pig, and a handful of eclectic suspects, and Piper has her work cut out for her. With her more-delish-than-dark-chocolate-covered-almonds boyfriend, Tattoo Tex, along to help, Piper sets out to find the out the truth as she consults her

PI flash cards

to catch a killer intent on ridding the world of more than just dead skin cells.

---
Health Nut Mystery Series (Book #1)

A cozy series about a Naturopathic Doctor
who solves mysteries.

Health Nut Mysteries
Book #1


Gemma Halliday Publishing Summer Anthology

RELEASED by
Gemma Halliday Publishing

22 summer themed short stories by bestselling mystery and romance authors! Enjoy mystery, romance, and lots of laughter under the sun with shorts from some of your favorite series. The perfect quick reads for vacation lounging or sipping frosty drinks poolside!


Including:
"Killer Conch Shell"
(Health Nut Mysteries)
by Patrice Lyle

Holistic Medical Fiction (Book #1)

A holistic medical
suspense novel
about the death
of Western medicine,
the death of a
federal agent,
and the death of
sisterly love.


GLISTEN #2
RELEASE DATE:
WINTER 2015






---
Subscribe to my newsletter to receive free books, coupons, exclusive reads, and be the first to hear about
my latest FAB contests, news and releases. Sign up here for notification.